By: Denzel Russell, Communications Manager
Date: Monday, November 15, 2021
In Ahmed Muhammad's graduation speech at Oakland Technical High School earlier this year, he said, "There is absolutely no way you can tell me I am the first Black person capable of being valedictorian," and he's entirely right. Black youth across this country have the innate potential and ability to be extraordinary scholars, innovators, and entrepreneurs, even as this COVID-19 era exposed significant equity gaps. What they need is grace, access, resources, and opportunities to support their ingenuity.
The Hidden Genius Project – an Oakland-based nonprofit organization also operating in Richmond and Los Angeles, California, trains and mentors Black male youth in technology creation, entrepreneurship, and leadership skills to transform their lives and communities. Black boys and young men in their mentorship programs are molded into the creators, technologists, and entrepreneurs of tomorrow.
Dedicated to the vision of being the leading incubator of dynamic young entrepreneurs and technologists, The Hidden Genius Project has changed the lives of more than 8,000 young people of color and provided over 440,000 mentorship hours through its Intensive Immersion, Catalyst, and Community Partner Programs.
This past summer alone, its holistic youth development program remotely mentored more than 160 Black males in high school across their Los Angeles, Richmond, and Oakland sites (which recently added a second concurrent cohort) and provided them with the leadership, entrepreneurship, and coding skills needed to reveal their inner genius. Driven by their passions, students realized their capabilities through an array of project-based, learning pathways steeped in website and application development, business, artificial intelligence, and gaming over a 15-month span. Richard Kamau, OAK8 Hidden Genius Alum, recently won the Intensive Immersion Program's award for best technical app project and shared "I loved having the opportunity to come up with my own ideas for my game. I think it's important to allow someone to express themselves about what they love."
Since its inception in 2012, The Hidden Genius Project has been rooted in the value of the African proverb Ubuntu, "I am, because we are," which emphasizes the deep bond between the youth and helps them visualize their greater selves. Because of this, the program boasts the following student impact outcomes: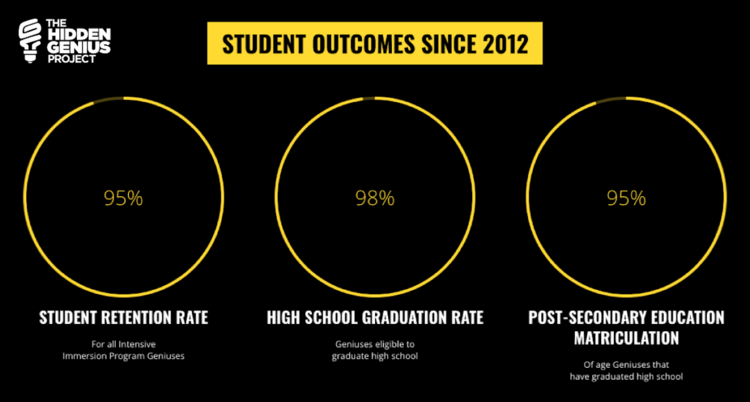 The Hidden Genius Project continues to lead the way to close the equality gap in technology, empowering a new generation of game-changers by activating, connecting, and mobilizing Black male youth to fuel their participation and leadership in the innovation economy.
Due to its strong work in the community, the nonprofit has gotten the attention of major funders and grant-making institutions. Bank of America, for one, has demonstrated its commitment to both workforce and economic development by investing in the organization's comprehensive youth support model through the Bank of America Neighborhood Builders Award Program. This annual prestigious award underscores the value of programs focused on building equitable communities and youth-driven leadership, and The Hidden Genius Project was honored with this recognition in 2020. As part of the program, The Hidden Genius Project received a $200,000 grant over two years, along with comprehensive leadership training for the executive director and an emerging leader on topics ranging from increasing financial sustainability, human capital management, and strategic storytelling.
"The Hidden Genius Project and its programs make significant contributions toward readying our Black youth and young men with the tech resources they need to pave a successful future," said Gioia McCarthy, San Francisco – East Bay president, Bank of America. "By being a 2020 Neighborhood Builders Award winner, the organization was able to use the funds to build upon its existing victories – despite the pandemic – and create an even greater impact in the communities it serves."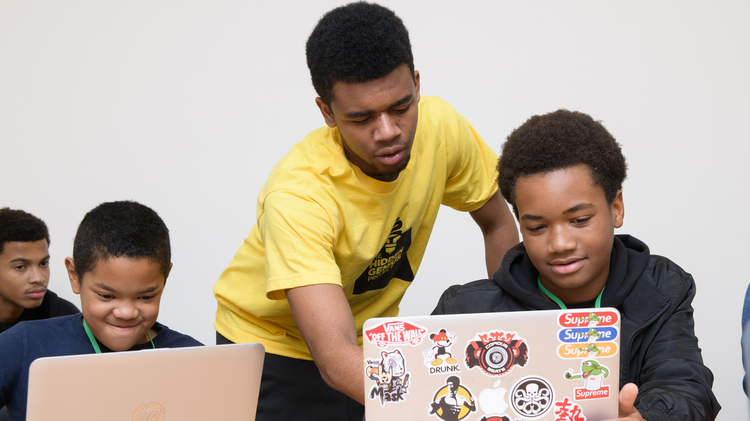 Creating new pathways for youth to excel and thrive
As the barriers to capital, connections, and direct coaching narrowed for Black founders during the pandemic, The Hidden Genius Project opened a pathway for aspiring student alumni business owners to learn about the key phases of startup development in a new, robust five-month Alumni Venture Seed Fund program focused on business formation, legal, technology, marketing, and venture capital.
In addition to receiving early stage funding, student founders were given access to high-quality coaching and training, including the resources and networks needed to support their entrepreneurial ambitions.
"This program provided me with the exact knowledge and support every new entrepreneur needs," said Ronald Bolden III, RICH1 Genius Founder. Another Genius Founder, Honorebel Walker, OAK3 Hidden Genius Alum, shared how the Alumni Venture Seed Fund "allowed me to explore and understand every aspect of a business."
In the near future, The Hidden Genius Project will continue to deepen its roots in South Central Los Angeles through its Research-Practice Partnership with UCLA Center for the Transformation of Schools and The California Mathematics Project. Over a three-year period, this social innovation partnership will help close key learning gaps and increase STEM career opportunities and pathways for students of color in the Los Angeles Unified School District.
This December, the organization will be hosting its annual Brothers Code event during National Computer Science Education Week in partnership with Kapor Center, which introduces youth and adults of color to technology and emerging career pathways. Next year, The Hidden Genius Project will proudly be celebrating its 10th anniversary, noting a remarkable decade of revealing Black leaders and innovators and equipping them with the critical skills to elevate their communities.
Read the original post HERE.